14/06/2019
CESAB EXPANDS INTO IRELAND
Cesab Material Handling has expanded into Ireland with the appointment of AWE Materials Handling as its exclusive dealership for the republic.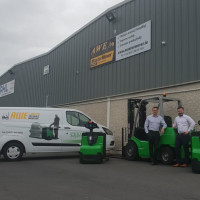 AWE, which was founded by William Edwards in 1985, is now headed by his son, managing director Conor Edwards. With a five strong team, including three field engineers, the company will support customers on the hire, sales and servicing of the Cesab forklift and warehouse equipment range.
Based in Greenogue Business Park, Rathcoole, Dublin, AWE's agreement with Cesab came about after recommendations from service director Eamonn Williams and another Cesab dealership.
Conor said: "Whatever the need, or application, we need to provide customers with quality products that they and we can have complete confidence in. As our service director had encountered the Cesab range in an earlier role, he knew a Cesab dealership, Spartan Forklifts, so we had a conversation with them. We soon realised this could be the solution.  
"Becoming a Cesab dealership means we keep our independence and our personal relationships with our customers but also have the backing of a truly high-quality brand. We're delighted to have joined the UK and Ireland network and are looking forward to a bright future with Cesab."
Miles Griffin, UK General Manager, Cesab Material Handling, said: "We're more than pleased to welcome AWE to the network. Their strong local relationships matched with the Cesab brand will give customers the reassurance of a personalised, tailored approach and a materials handling range to deliver optimum uptime."
For more information please visit www.awe-cesab.ie