26/10/2018
CESAB Launches New Hydrostatic M300H
Cesab Material Handling has launched its new hydrostatic forklift truck, the Cesab M300H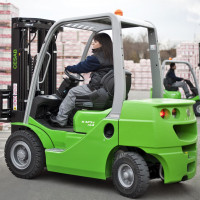 The range, which is available in 1.5 to 3.5 tonne capacities and offers diesel or LPG fuel options, has been designed as a powerful upgrade on the manufacturer's award winning, Pininfarina designed Drago range. 
Available through Cesab's independent dealer network, which offers tailored local service to customers across the UK, the new range brings significant operational benefits. 
Cesab M300H hydrostatic trucks offer the advantages of powerful and precise handling and fast change of drive direction for higher productivity. Independent lift and drive functionality provide the operator with complete control, as well as automatic braking when the foot is removed from the accelerator for easy manoeuvring.
The Cesab M300H delivers an easier and more controlled drive on ramps for better safety, and the option to pre-set performance parameters. These parameters are unique to Cesab, allowing operators to adjust the truck's performance behaviour to the working environment and driving abilities. 
A dashboard switch offers a choice of three positions, including smooth for gentle braking and acceleration, medium for a more sustained reaction and hard for maximum reaction.  These different modes affect the acceleration and automatic braking via the accelerator pedal. 
With the help of a portable computer, the driving and hydraulics can be customised to fit operator or customer application requirements.
As with the proven Cesab M300 torque converter range, ergonomics, driver comfort, safety and durability are all assured. Mini-levers or joystick hydraulic controls offer precise load handling with minimum effort, while Cesab's unique Intelligent Mast Design includes wide-view masts for excellent visibility in all situations.
The M300H series also includes as standard Cesab's new Intelligent Stability Design, a package of active, innovative features created to help improve workplace safety and increase productivity.
Even the most skilled and experienced operators can be momentarily distracted or affected by fatigue.  Cesab understands the importance of this issue in the workplace and Intelligent Stability Design constantly monitors critical factors and takes preventative action helping to reduce accidents such as forklift tip-over occurring.
Miles Griffin, General Manager, Cesab Material Handling UK, said: "The Cesab M300H range presents a highly productive, manoeuvrable and customisable materials handling solution to operations across the UK. The business benefits include the ability to configure the truck's settings to suit each operation and the enhanced productivity that comes from a range that is purposely designed for optimum operator comfort and all-round visibility. 
"We're delighted to launch the range to the UK market and look forward to showcasing the significant advantages it will bring to a range of material handling applications." 
To view full image download JPEG