14/11/2018
Fruit show a winner for Prins Forklifts UK
Around 2,000 fruit industry professionals discovered the Cesab range first hand when dealership Prins Forklifts UK exhibited at the National Fruit Show.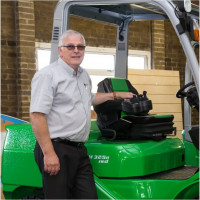 The two-day event, at Kent Event Centre in Detling this October, included the largest display of apples and pears in the world, at 64 metres long, and gave suppliers a chance to showcase the latest agricultural technologies to industry buyers.
Among those technologies were the new Cesab M300H hydrostatic forklift range, being shown for the first time in the UK at the Prins Forklifts stand. 
Available in 1.5 to 3.5 tonne capacities, the range offers diesel or LPG fuel options, and the advantages of powerful and precise handling and fast change of drive direction for higher productivity. 
Prins Forklifts UK's managing director Mark Dorman said: "We have been a key supplier to customers in the agricultural sector for several years and have built some strong relationships across the Kent region in that time. We offer a bespoke and highly responsive service to our agricultural customers, ensuring that they stay productive year-round, and especially during their very busy harvest periods. 
"We were also pleased to show the Cesab based Prins Tiger 'Orchard Spec' diesel machine, which we have worked exclusively with fruit growers of Kent to develop. This has proved to be the grower's choice when it comes to moving fruit from the tree to the cold store. It offers high manoverability, exceptional vision through the Cesab mast, general power and a lack of footprint damage to the orchard.
"This year's show was a fantastic opportunity to meet more customers and demonstrate the real value that Cesab products and dedicated support from a local dealership can make to businesses in the fruit sector.
"The feedback at the event was excellent, with customers commenting on the high build quality of the Cesab range. We were delighted to be there and are looking forward to following up on the many introductions made over the two days."
The Fruit Show is organised by the Marden Fruit Show Society, a registered charity that represents the fruit industry. This year's event was the 85th in its' history.
More details on Prins Forklifts at www.prinsforklifts.co.uk
To view full image download JPEG